About This File
RoboXecute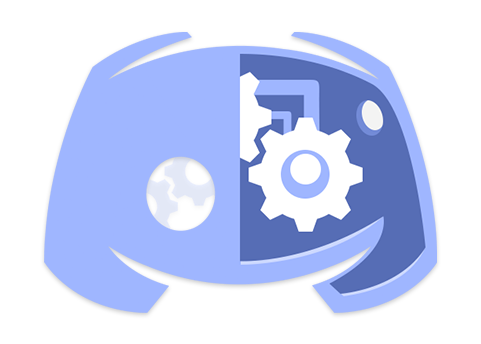 About this File
RoboXecute allows for commands / messages to be sent from Discord into WoW through WRobot. This plugin will also send Whispers that are sent to your WoW character into Discord so that you can see them. This also means that you can install the Discord app on your phone and send commands from your phone.
This Plugin allows full integration with Discord. Send Commands from Discord!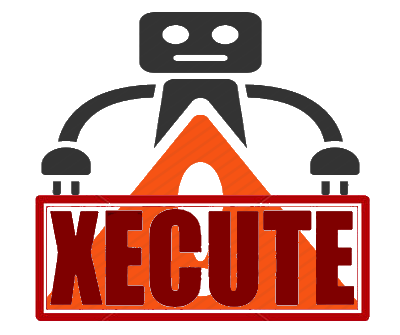 Game Versions
I have tested RoboXecute on the below game versions. I am sure it works in other versions, but below are what I have tested.
Legion (Retail)
WoTLK
Burning Crusade
Vanilla
I have not tested all versions of the game. If you would like to test the plugin on a version of the game that I have not tested listed above, message me and I'll give you a free copy!
Current Executions/Actions that can be sent to Discord and then sent to WoW:
Whisper other players
Message in the Say Channel
Exit / Logout of Game.
Pause WRobot
Resume WRobot
I will be adding more in future updates. 

Hearthstone
Send Screenshots
Current events that are sent to Discord from WoW:
Any time any of the below things happen in WoW, a message will be sent to Discord with details.
Whisper Received
Say message Received
Performing current supported actions from Discord:
Whisper:

/w <playerName> <message>

for example: /w shenzul Hi how is it going?

Say:

/s <message>

for example: /s Hi How is it going?

Exit Game:
Pause WRobot

/pause <seconds>

for example: /pause 30

this will pause WRobot for 30 seconds

for example: /pause

this will pause WRobot indefinitely (or until resume command is received).

Resume WRobot
Get Status of WRobot Pause State

/pausestatus

this will return back the current pause state of WRobot to discord.
Pause And Resume WRobot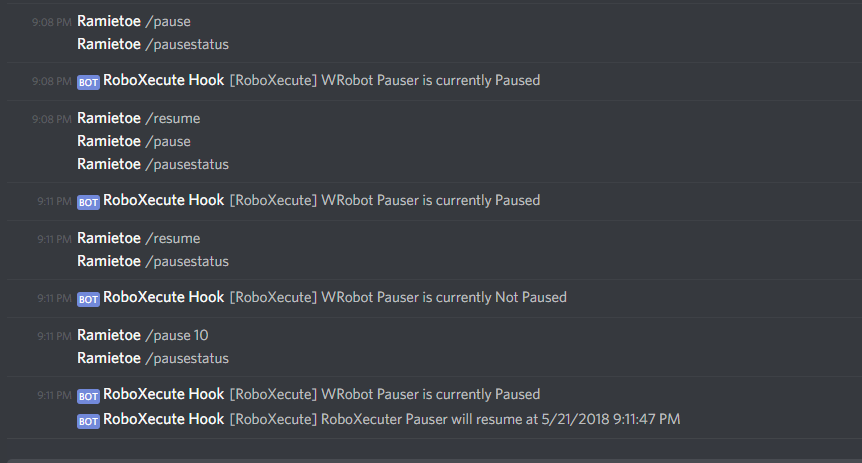 Receive Whisper and Say Notification from WoW
Message sent to bot character from other player.

Message received in discord.

Send Whisper and Say Notification to WoW From Discord
Whisper is sent from Discord:

Whisper gets pushed to WoW and sent to player Shenzul: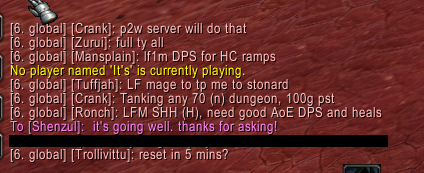 Say Message is sent from Discord:

Say message forwarded to WoW from Discord.

Configuring Whispers and Says to be sent to Discord from WoW.
RoboAlert can send Discord  messages based on configured events.
Open Discord Desktop Application.
Enter a name for your Discord Server.

Enter a Name for the webhook, and then COPY the Webhook URL.

Click Save.
Paste Webhook URL into WRobot RoboAlert settings Discord Webhook URL field.
Configuring Discord to send Actions to WoW 
 Click New App
 Give App a Name.
 Click Create App.
 On next page, Copy the CLIENT ID under App Details. SAVE THIS
 Click Create a Bot User.
 Next to the Token button, click the CLICK TO REVEAL url.
 Copy the Token. SAVE THIS
 Go To below URL, but replace the YOUR_CLIENT_ID_HERE with  the copied Client ID from step 5.

 Select your custom server that you added a Webhook to. Make sure Read Messages and Read Message History are checked.
 Click Authorize.
 Paste WRobot RoboXecute settings Discord Bot Toekn field from step 8.
Below Gif shows the process: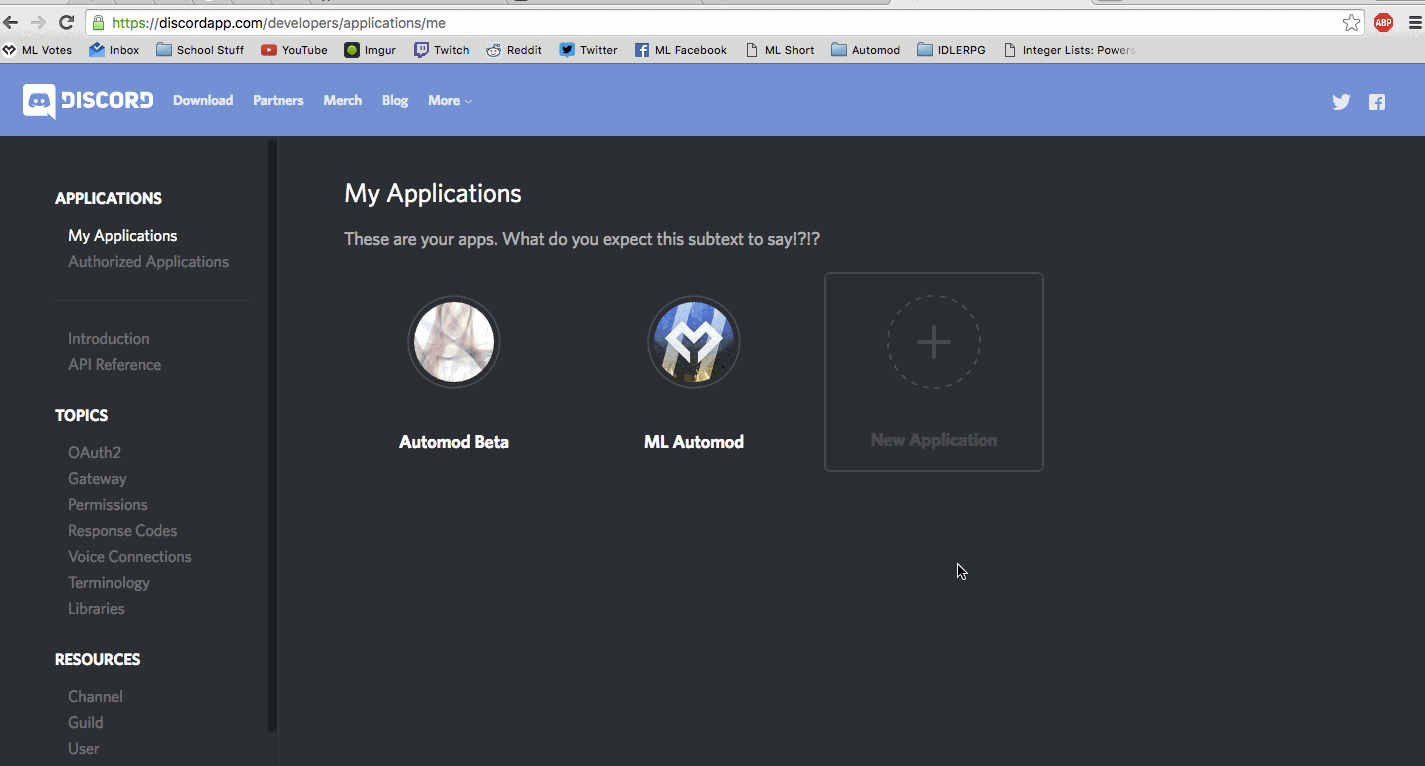 Purchase RoboXecute on Sellfy - €7.99
Any user that purchases RoboAlert can send me a message for a discount code on RoboXecute. If you would like to purchase RoboAlert and own RoboXecute send me a message for a Discount code for RoboAlert :).
For Support or any assistance, please message me through private message or on in the comments. I check WRobot website multiple times a day, and will do my best to respond within 24 hours. 
My Other Plugins:
RoboAlert: Play Alerts/Emails/Phone Notifications/Discord Messages/Sounds on Events to help against getting Banned.
AutoIgnore: Ignore any character not in your friends list or guild.
Server Hopper: Farm Gold more efficiently!
.In accordance to the rules, I am required to state that I am not associated with WRobot company. I am not associated with the WRobot Company - Avvi
---
What's New in Version
1.0.5
See changelog
Released
(1.0.3) Vanilla version of plugin was checking for Battle Net messages. I have removed this from the vanilla version of the plugin to prevent errors.
(1.0.4) Can now Exit the game from RoboXecute using command /exit from Discord.
(1.042) Added CPU usage fix.
(1.0.5) Can now Pause , Resume, and get the statue of WRobot Pause state by using following commands (thanks to @Radoi for the suggestion!

😞

/pause <seconds>
/resume
/pausestatus