About This File

This FC comes with options, these have to be set first to use the FC. check the attached picture if you need to know where to click. its the cog next to Fight Class field in the general settings.
The options are as follows:
You can choose what blessing to buff, for yourself, and for party members.
You can choose what aura you will use.
There is an option for lay on hands @ >12% hp. 
You can choose between Seal of Command or Seal of Justice.
When you choose Seal of Justice (the bot will judge so mobs don't flee in fear), for what it does after that, you can pick 2 options: 
Option 1 after judgement of justice is on the target, the bot will use seal of command til its dead..
Option 2 is instead of using seal of command, the bot will instead use seal of justice (for stun procs)
you cannot use option 1 and 2 at the same time. 
also if you have a draenei paladin there's an option to cast gift of naaru @50%hp and >25% mana 
this bot will automatically heal itself with holy light

@ 50%
to turn on options set them to TRUE!
some cannot be on with others. ( SOC, SOR, and SOC options cannot be used interchangeably unless it stats in the description )

I am happy with this FC for what its purpose was, solo grinding. I no longer am playing a paladin so I wont be updating this because I do not have a toon to test with... I can still add features but only on a per donation basis, in which the customized FC will be given directly to you personally and not posted on here. send me a message on this board for more info.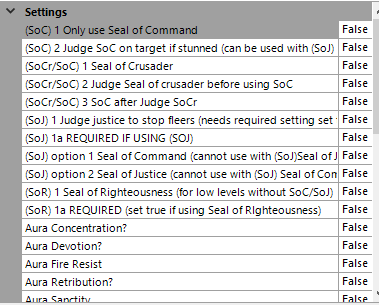 ---
Released
1.2
Added Seal of Righteousness options for low level players.

1.3.1
Added options:

Sanctity Aura
Divine Protection @ 15% hp (this should activate first before Lay on Hands)
Hammer of Justice (will active if target attempts to cast)
Cleanse self of pvp debuffs (can be modified to add other magic/poison/disease debuffs in the lua condition)
Cleanse party of pvp debuffs (can be modified to add other magic/poison/disease debuffs in the lua condition)
Righteous Defense will pull targets from any party members when the skill is up and someone besides bot is getting hit in your party. 
Crusader Strike will go off whenever its up
Hammer of Wrath @ 20% hp (everything)
Hammer of Wrath @ 20% hp (pvp only)
Repentance fleeing target
Repentance to stop target cast

1.3.2

Added Option:
Crusader Aura automagically activates when mounted on Summon Warhorse (change the name of the mount in crusader aura condition to use different mount) will revert to previous aura when dismounted.

1.3.3

Added Options:
Fire Resist Aura
Consecration >3 mobs >50% mana

1.3.4

Fixed blessing of kings buff for player setting

1.4

Added Options:
Judgment of the Crusader with Seal of Command follow up added.
renamed some options for seals to try to make them clearer

1.5

Added using SoR after SoCr judgement. redid options to reflect this.