About This File
Im trying to make the best, free C# fight class for Vanilla Feral Druid.  Built towards working with my vanilla levelling profiles
The idea behind this was to make a Feral druid FC that will go 1-60 where you dont need to populate the action bars with spells after training.
please set the food / drink tab to look like the attached screenshot. If you want to add actual drink you can set the upper mana to 95%.
Levels 1-4 will be a bit plain as it will just be melee / healing touch (wont use wrath).  4-10 will be a moonfire / rejuvenation rotation.
10-60 Is a bit more fun as the bot should get shapeshifting.  Will use bear form til cat form is learned.
Bear form is a simple maul spam.
Cat form will use rake and claw.  Will use combo points with Rip if mob  health > 50% and  Ferocious bite if mob health < 50%.
Should pull with faerie fire << need testers
Should also buff omen of clarity if your specced.
Will break forms at 35% health and drop HoTs / heals and shift back in . 
Will also break form if out of combat and dont have Mark / thorns active.
Will also also break form if your target is a friendly NPC, trainer or vendor.
I think this will work best when grinding lower level mobs.. once you need to heal a lot mana will become an issue.
If you have any suggestions / bugs / recommendations drop me a PM and i can look into it.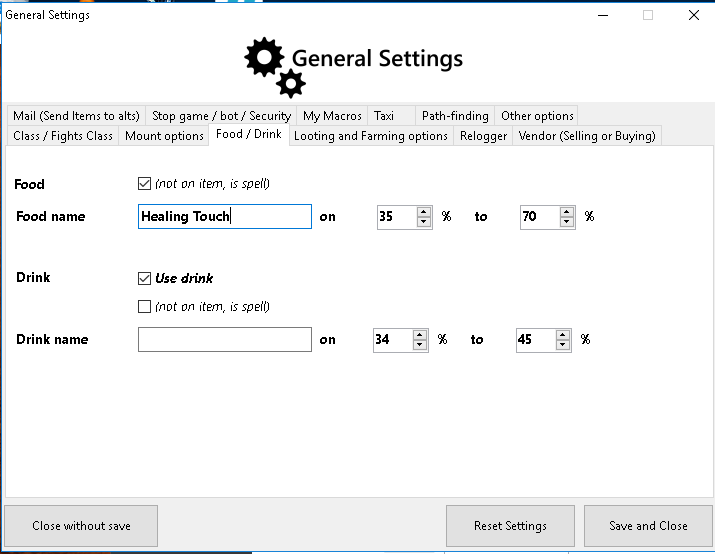 ---
What's New in Version
1.2.3
See changelog
Released
1.0.1
-fixed some labelling in error cases
-fixed issue where is the buffs ran out while targeting a friendly unit the bot would spam buff on the target till OOM
1.0.2
- added timer mechanism so the bot wouldnt spam regrowth for regen
1.0.3
removed regrowth as an out of combat 'buff'
1.1.0
First attempt and clearing forms for quest givers.
1.1.1
Fixed Faerie fire cast in cat form
1.1.2
Added form drop for node's nearby- needs testing
1.1.3
Added a "no bleed" so cat form wont spam rake / Rip on targets who don't bleed.
1.2.0
Cleaned up the enter / drop form conditions
Added cat form as a buff so you can run around in cat instead of no form.
1.2.1
Added a stopfight if NPC is tagged (BETA)
1.2.2
Added break form when out of combat with low mana.
1.2.3
Added mana thresholds of 70% for Buffs
Got sick of watching the bot res, buff and enter combat only to die because it didnt have the mana to get into form.
Fixed logic error with out of combat heals....
1.2.5
More mana logic when OoC
1.3
Added stealth druid will prowl between mobs if a player someone is within 125 yards